What does a managed IT services provider do?
A managed IT service provider is basically an extension of your team. They deliver services, such as network, infrastructure, and security, with regular support from an off-site location. They take care of a lot of aspects of your business, which we will outline more down below.

To learn more about a managed IT services provider, read our blog "Managed IT Consulting: A Comprehensive Guide"
What can a local IT Support Service do for you?
For a small business in the big city, having a local IT support service is important, especially if you are doing everything on your own. Having ease of mind about your data and cybersecurity will enable you to focus on what's more important: your customers! It's also hard to be prepared for every technical problem that could go wrong on your own. There is also the risk of cyberattacks. According to Accenture's Cost of Cybercrime Study, 43% of small businesses are the target of cyberattacks, with only 14% prepared with defenses.
Luckily, we have the people who can help! Here are some of the benefits of having a managed services provider.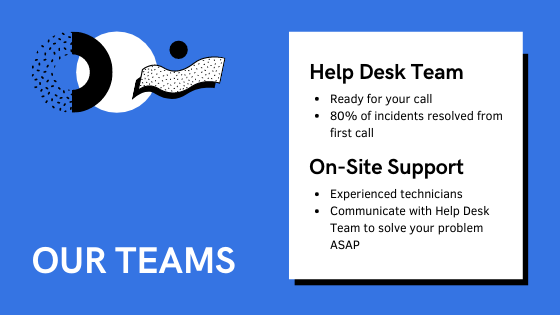 Help Desk Team
The help desk team is ready to answer your calls! In our experience, 80% of incidents can be resolved on the first call. If there is an issue that requires on-site support, we will dispatch one of our many technicians to help you get up and running again.
On-Site Support
We work to prevent most issues before they become a problem. By doing so, downtime is minimal, ensuring the highest level of productivity for you. The on-site technicians are skilled in various aspects of IT and communicate directly with the help desk team to ensure they understand your problem and how to solve it.
Why do you need a managed IT services provider?
Here are a few things an MSP can do for you!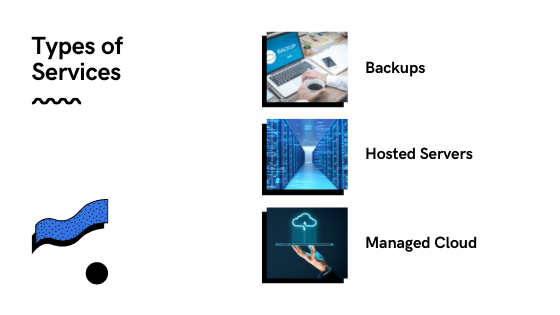 Types of Services/Support
Backups: Put your backups in the hands of an MSP. Doing so ensures you have access to your data 24/7 without having to worry about its safety and storage. Having these backups on hand is very important, especially during the off chance that a disaster out of your control occurs.
Hosted Servers: Hosted servers will help your company sites run faster than a shared web host. You won't have to worry about your site competing with other sites on the same server for information transfer, especially if multiple requests are coming in at the same time.
Managed Cloud: Improve your overall productivity with a managed cloud. With this resource, you will be able to eliminate complicated file backup, storage, and retrieval. You could even scrap your entire server! Putting all your resources on the cloud makes your data accessible anywhere and anytime.
These are just a few of the many things that can be done for you and your business. ETech 7 is ranked among the best managed service providers in NYC, and would love to be yours! Visit etech7.com to learn more and connect with us today!