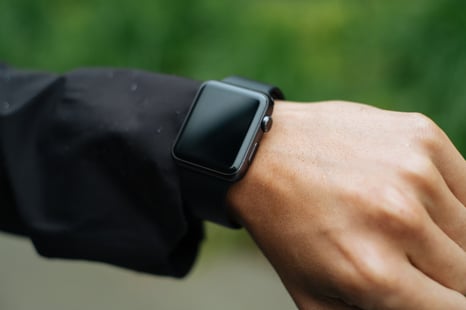 I met the Apple Watch in person quite spontaneously when a friend of mine answered a call from his mother by raising his wrist to his ear. Welcome to 2017, people.
"Well," I thought.
"That was peculiar."
I guess this is what the kids are doing these days.
Needless to say, the Apple Watch features a plethora of handy applications of which only some are calling and texting. But has anyone ever noticed how life-focused the watch makes us? It's applications closely resemble a survival kit from a futuristic movie. These days consumers are extremely focused on improving their lives and filling them up with shiny gadgets and toys.
While it seems that the Apple Watch was created to improve the overall quality of life, it also alters the way we think about our lives, and by association, our impending deaths as well.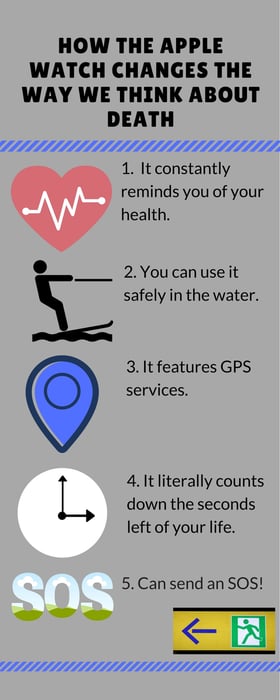 1. It forces us to worry about our health - literally, around the clock.
The Apple Watch does everything from measuring your heart rate to counting your steps. The watch features a sensor on the back which accurately checks your heart rate and saves the information for later. One may be shocked to learn that this mobile heart rate monitor has even saved a life.
Furthermore, the watch becomes temperamental when movement is neglected. It features a setting which reminds you to stand up if you've been sitting for too long. It also notifies you throughout the day to complete your exercise goals. This little friend on your wrist has the ability to be more health conscious than you are, reminding you to move, exercise, and be weary of your heart rate. The Apple Watch treats your health with the utmost importance, training you to take care of your health at all costs - as if your life depends upon it.
2. It's water resistant, meaning it can come with you into the water.
These days people are determind to make everything waterproof - especially our electronics. When I hear "water resistent up to 50 meters of water," I can't help but ask myself, "why would my watch ever be submerged in 50 meters of water?" Is this some sort of safety precaution?
But water resistant and waterproof are two different things. The Apple Watch (Series 2) is completely waterproof - duck status, up to 50 meters. This means you can actually take it swimming or into the shower. Perhaps this is for people who are afraid of feeling disconnected when they spend time in the water. But could this feature be lifesaving?
What if you slip in the shower while home alone and are unable to call for help? What if the technology were available conveniently on your wrist? The waterproof feature of the Apple Watch may be useful for more than simply texting in the pool. As the Apple Watch becomes water-friendly, it also begs to come with you everywhere, just in case it needs to save your life.
3. It has a built-in GPS so you'll never have to worry about getting lost.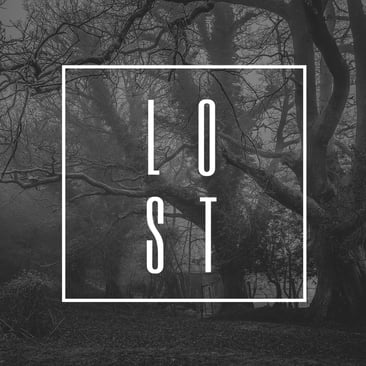 The Apple Watch features locational services which make finding your way a breeze.
If I didn't have Google Maps installed on my iPhone, I'd have no idea how I'd get around. However, a lot of the time I find myself looking down on my phone while trying to decipher directions. This is objectively dangerous due to how frequently I do it. Walking around NYC is like driving around in bumper cars.
The mission is twofold - get from point A to B without running anybody over or walking head-on into the street. Navigating on the Apple Watch allows you to keep your phone away and your eyes on the street on the road. The watch even vibrates when a turn is coming up with differing vibrations for a left or right turn. You can access this features by asking Siri for directions, further keeping your eyes on your surroundings and your body upright. There's no way I'm the only one looking down at her phone while crossing the street.
4. The Apple Watch allows you to send an SOS in the case of an emergency.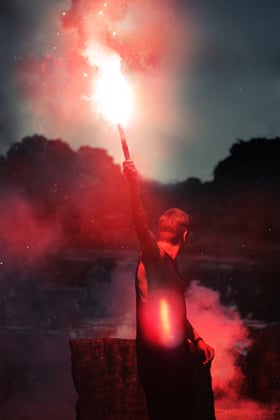 Need I say more? This lean little screen actually has the ability to save your life. The Apple Watch includes an SOS feature, allowing you to instantly call for help in case of an emergency. This feature may be particularly useful for elderly citizens who live or travel alone. Based on your location, the watch notifies the closest emergency response team faster than taking
the time to dial 911 on your phone.
5. Here's the kicker. The Apple Watch has a built in life clock.
Imagine looking down at your watch screen only to find out that you have 58 years, 6 months, 5 days, 3 hours, 23 minutes, and 45 seconds left to live. How real is that? This feature of the Apple Watch forces you to think of your impending death and what you can do right now in this very moment to live a longer and fuller life. Your life expectancy will increase before your eyes when you get a full night's sleep or increase your physical activity.
This magical application has the ability to keep you focused on the remaining moments of your life, 24/7.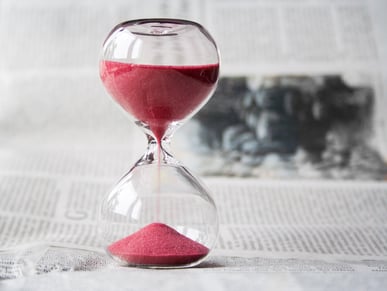 The Apple Watch causes its user to constantly reevlaute his or her life, and how much they have left of it. This watch can make you health conscious and highly aware of your surroundings, not to mention hyperaware of how your actions effect your lifespan in real time. This watch attempts to hold your hand every step of the way - even acting as a lifeline in case of an emergency. The Apple Watch reminds us that death is just as real as life. It seeks to inform us how important our lives are and how crucial it is to be healthy and safe at all times.