This past week in NYC, CE Week partnered with GetGeeked and Show Stoppers to host their annual CE Week "business to everyone" event (B2E). Taking place from July 12th to July 13th, the event showcased hundreds of amazing new tech innovations and products. Every year, CE Week brings together press, industry attendees, and major tech influencers to mix, mingle, and revel in the newest tech inventions.
For over 10 years, CE Week has been the go-to place for members of the tech industry. This carefully curated event gets people talking about tech, and gives attendees the opportunity to interact hands-on with various tech products in person.
Here is an inside look at CE Week's newest tech innovations and gadgets:
Mobigrip X
Mobigrip is a new professional series of cellular leash products developed by RND Development Inc. Mobigrip comes in various models, all of which are sleek and multifunctional. These versions range in both appearance and features, from glow-in-the-dark logo rings, to adjustable swing out kick stands with magnetic mounting.
Mobigrip takes the form of a thin ABS plastic disk that adheres safely to the back of your smartphone with a concealed, silicone bungee loop. When released, the bungee loop stays wrapped around the finger, connecting the phone to the user.
Founder of Mobigrip Greg Myers explains, "We have finally found a singular solution to address the various needs of the smartphone user." While other products, similar to Mobigrip, fail to protect your phone from falling out of your hand, or ultimately restrict your finger motion, Mobigrip allows you to have access to all of your fingers while keeping your phone safe and secure.
"Our intention was to save users money, data, and the hassle from breaks, with our new added functionality we believe Mobigrip is best in class," says Myers. Mobigrip retails at around $10 and is available on www.mobigrips.com
EyeQue
EyeQue has a clear aim: make simple and cool vision technologies at the lowest possible cost. Founders Tibor Laczay and John Serri's intent is to make a clear vision a reality for all. The EyeQue personal vision tracker is the first step toward this goal. This vision test is designed to help the user assess his or her vision by self-administering a state of the art refractive measurement test through the myEyeQue mobile app.
Using advanced technology and patented algorithms hosted in the EyeQue cloud, the vision test is simple to self-administer. Simply, attach the EyeQue device to your phone and take the test with each eye.
This technology not only changes the way people keep up with their eye health, but also allows those who do not have formal vision healthcare to submit the results of their test to glasses stores. EyeQue is eager to collaborate with and arm the optometrist community with intelligent vision solutions. Eye care professionals can use the personal vision tracker to extend their reach, attract new patients, and improve communication between visits.
The advanced technology from EyeQue Cloud and the myEyeQue app can change the way doctors and patients interact and minister their own health. EyeQue is another example of how technological advances are impacting the world of healthcare. EyeQue is available for purchase on the EyeQue website eyeque.com.
Strotter
The idea for Strotter came to Serge Pylkovas in January 2011 when he was riding a subway train in Boston, MA. "All seats were taken. There was that guy standing next to me, holding an iPad in his left hand and using his right hand to navigate. Then the train suddenly jerked and stopped. The guy dropped his iPad. The next morning, I woke up with an idea of a suspended iPad case - so that the iPad is protected from a fall, and hands are free to type."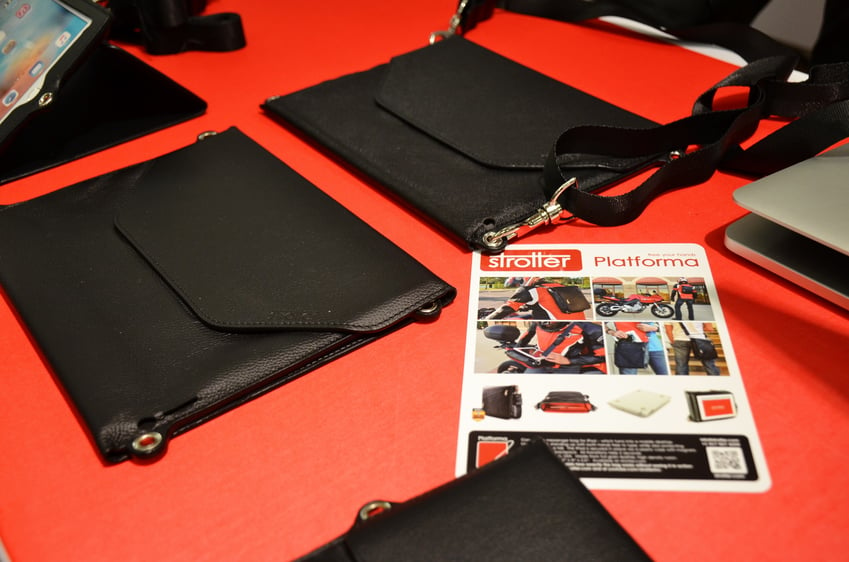 Strotters Across hands free IPad case
To differentiate himself from the current market filled with $20 iPad cases, Pylkovas created his own premium, high end product: the Platforma bag. He wanted the design to evoke elegance and safety for iPads. The Platforma can be worn as a crossbody, shoulder bag, or backpack. The Platforma is much more than just a transformative iPad bag, it doubles as a mobile desk. Simply attach a magnetic case to your IPad allowing it to stick to the back of the bag. Once it is in place, you have two free hands to type with.
The Platforma's many uses is what makes it such a cool product, even winning it the Mac Observer editor's choice award. Strotter also makes hands free iPad cases with shoulder straps. The Across hands-free case is similar to the Platforma bag, but is lighter weight. All Strotter accessories are made with Italian leather, and the Across iPad cases come in a variety of colors. All accessories are available on Strotter.com.
OzoBot
OzoBot creates adorable, smart, and social robots for children ages 8 and up. Evo and Bit, two of OzoBot's main inventions, were created to encourage creative thinking and social interaction. The Evo bot provides hours of creative and fun programming opportunities with special projects and downloadable activities for everyone. This bot is a great way to introduce Stem/STEAM skills to children.
Evo matches up with an app that is downloadable. It works with both color markers and code commands through the app. The bots read the colors and then follow the commands. This product gets kids programing both in and outside of the app.
What is so impressive about the newest bot Evo, is that it comes equipped with OzoChat for Evo-2-Evo worldwide messaging, Infrared (IR) Proximity Sensing Bluetooth Range up to 30 feet RC-Controlled movements, Sounds and Expressive LEDs, color and Line detection autonomous behavior mode, character and content downloads 60+ minute playtime.
"We designed Ozobot Evo to connect the physical and digital worlds, replacing solitary screen time with endlessly engaging user-to-user, user-to-bot and, bot-to-bot interactions," says Nader Hamda, CEO and Founder of Ozobot. "The Ozobot team is dedicated to not only finding creative ways to engage minds but also to be ahead of the digital times: we believe Ozobot Evo does just that." Evo and Bit can be found on their website ozobot.com.
MergeVR
The trend of developing high tech toys continues with Merge VR. The creators at Merge are revolutionizing the future of toys and play. "We work with toys because in every generation, toys create the future kids." Founders Andrew Tricket and Franklin Lyons focus on making mobile virtual reality and immersive entertainment accessible to everyone.
Merge goggles are IOS and android compatible, soft to the touch, easy to clean, and drop tested. By simply placing your smartphone into the goggles, you instantly step into a world of virtual viewing. Merge goggles have a built-in-spring loaded input button, allowing you to interact with more VR apps; no controller necessary. There are hundreds of VR apps on the market that are simply a download away. Colorful and fun Merge goggles are here to provide hours of virtual fun for you and your child. For more information, check out MergeVR at mergevr.com